ADEL 2000 Reunion was a great success. Thanks go to Critter, Taubel, and Bill Shawgo
Get ready in 2005 for the Adel reunion cruise!
All classes









Don't forget to sign the new Adel Guestbook
Sign Our Guestbook
View Our Guestbook
Details to follow over the next few years
For info and photos from the 2000 Adel reunion click here
For some old Adel (1967) Roundup photos, click here
For the spring 2001 of Adelnews, click here
For the summer 2001 issue of Adelnews, click here
For the Winter Edition 2002 Adelnews - click here
Just out - Adelnews - Spring Edition 2002 click here
Visit the Adel "Wall of Fame"

To skip to the Adel Email directory,click email
For the latest in Daily Devolutions, Go to Adels Devos
The Adels are Back?
Not sure who they are. None have responded to emails. But as the photo below shows, the purple and gold is back at the GCC campus.
Found This web page from the new Adels. I have some problems with the "Adel Devotions" page.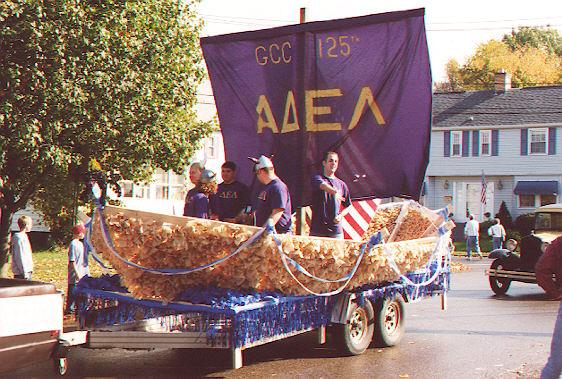 Years at GCC
During the late 1960's I pledged the Adelphikos Fraternity at Grove City College, thus introducing me to a number of friends with whom I would remain in contact for years. Those days were wonderful, and the Adelphikos (the college's second oldest) was a frequent winner of the float contest held during the homecoming ceremonies.
For good contact information, e-mail Joe Muhitch


To contact the Adelphikos Alumnis, email Adelphikos@lycos.com
or contact one of the members directly by email them using the "Adels on the Internet List" toward the bottom of this page.

This page has been visited
times.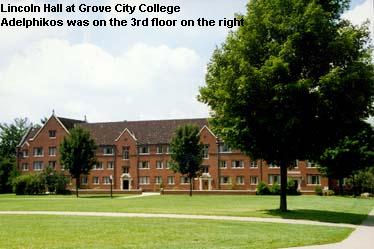 This is the dormatory that the housed the Adels in the late 1960's.

Float Competition
During the late 1960's, the Adelphikos Fraternity became on of the most active and interesting social groups on the Grove City College Campus. in 1967, the fraternity created a float to commemorate the Pink Panther movies, and the float won first prize. This was the first time the Adels had won the float contest since 1963. In 1969, a large float showing and Eagle with an American flag in its beak and landing on the moon "The Eagle has Landed". Homecoming 1970 made it three years in a row with first place winner with Tony the Tiger.
Winning Floats
1963 - Days of Wine and Roses 1968 - Pink Panther 1969 - The Eagle has Landed 1970 - Tony the Tiger

Fraternity Presidents
Some of the fraternity presidents during this time were:
Dave Elliott
Scott Saunders
Timothy Bemis
Ed Bowersox
Mark Fleming
Domenic Ballistreri
Dann Grant
Claude Grady*
*Claude died of AIDS in the winter of 1996 as noted in the Grove City College Alumni News. He had resided in Atlanta, Georgia during his last years.

College Administration
During my years at Grove City College, the President was J. Stanley Harker and the Dean of Men was Dr. Fred Kring (wonderful guy and a good friend. Dr. Fred who always wore red, died in 1995.) Dr. Sweezy was the dean of the college.
The Late 1960's
The 1960's were trubulent years on most college campuses. Grove City was no exception. Although there were no riots nor were any students killed as happened at Kent State University in Ohio, there were demonstrations and speeches. Much of the social and political change was quietly expressed through the college newspaper, The Collegian. I served as an editor and as cartoonist from 1968 through 1970. I even received an award from St. Bonaventure University for a series of cartoons I did during the Nixon Administration's handling of the War in Viet Nam.
Most of our activity in the Adelhpikos Fraternity, however, revolved around what parties we were going to schedule and "road trips" to the Lone Pine Inn west of Grove City on Rt. 208 or Herron's Bar in Sandy Lake. As I recall, we had many road trips.
On a May evening in 1970 on the road to Sandy Lake, two Grovers were killed when the car in which they were riding struck a utility pole and hurled them into a tree. (No seatbelts and it was a convertable.) Both men were about to graduate and one was to get married in June of that year. They were not Adels. Steve Livingston was a Nu Lam and Dave McCleod was a Beta Sig. But they were good friends of ours, especially Dave. And this incident perhaps forewhadowed the accident that occurred in 1974 when several Adels were killed by a drunk driver during a pledge walk.
It is hard to remember some of the events which occurred three decades ago, but I do remember that one of the founding Adels died while I was attending GCC in the 1960's, Ira Shaw. A group of us went to Pittsburgh to visit his surviving family.

Fraternity Songs
Viva The Purple and Gold
(Sung to Viva la Companie)
Three brothers went out in search of some cheer
Viva the Purple and Gold
And they came back with a keg of beer
Viva the Purple and Gold
And they came back with a keg of beer
And they came back with a keg of beer
And they came back with a keg of beer
Viva the Purple and Gold

A song arose fromt he brothers' lips Viva the Purple and Gold
About a girl with tremendous hips
Viva the Purple and Gold
About a girl with tremendous hips
About a girl with tremendous hips
About a girl with tremendous hips
Viva the Purple and Gold

Now listen my brothers and have no fear
Viva the Purple and Gold
No women shall come between brothers and beer
Viva the Purple and Gold
No women shall come between brothers and beer
No women shall come between brothers and beer
No women shall come between brothers and beer
Viva the Purple and Gold

Fraternity Hymn
(to the tune of Deutschland Uberalis)
Men of honor, men of courage
Brothers through and through are we
Loyal, faithful to our colors
Proud we are to bear thy name.
Though the years may pass between us
Still we raise our banner high.
The Adelphikos our fraternity
Long may we cherish and remember thee

Adelphikos Pledge Class - February, 1967


John Balliet
Domenic Ballistreri
Rob Bauer**
James Barron
James Bricker
Gary Brook
Richard K. Brown
Dave Coulter
Bill DeMore
Claude H. Grady*
Dann E. Grant*
Thomas Graham**
Edwin McCready
Timothy Moritz
Willard Shawgo
Greg Skeates
Robert Schaller
George Socher
Wilmer Weight
Richard Wolfe

*Deceased - Claude Grady died of complications related to HIV and AIDS.
**Never graduated.

Special note:Adel Tom Abel was killed in a motorcycle accident. Ron Holstein is also deceased. Details unknown.
1967
1967 was the Summer of Love year. Much was happening in the U.S and abroad at that time. The Ford Mustang had not been ruined yet; the top movie was "The Graduate"; The top album was "Sgt. Pepper's Lonely Hearts Club Band", and the Beatles reigned supreme in pop music; "Mission Impossible" was the top suspense show; Lyndon Johnson was President and had escalated the number of American troops to 550,000; the "new" Nixon was back and running for President; starting teachers' salaries were about $5,000 a year; a new home cost less than $20,000; the Dow Jones Industrial Average was around 800; Ohio State was building the best college football team ever; the Cleveland Indians were still in the cellar; Kenny Rogers and the First Edition had a hit called "I Just Dropped In to See What Condition My Condition Was In"; and the Adelphikos had their largest pledge class in four years.
Grove City College had required ROTC and chapel; Dr. Kring ran the campus, even though J. Stanley harker thought he did. There was only one girl's dorm, although a few women lived above Allumni Hall; the girls had "hours";
In those days there were ashtrays everywhere. It had not yet become politically incorrect to smoke. A gallon of gas was about 30 cents, but there were often price wars that lowered it to less than a quarter.
Jay Curran still had his 1957 Chevy; Bill DeMore, his Corvair, Gary Brook, his 1960 Oldsmobile, Rick Wolfe, his 1958 Buick.
Our greatest goals in life were to maintain at least a 2.0 average so that we could pledge, get dates, party, keep our 2S deferments, get a dummer job, take frequent trips to Youngstown, avoid the dining hall, get an apartment off-campus, party, get dates, go to Herron's, get dates, party. . . . Lots of things have changed since then. Some things haven't.
email Adels on the Internet


The Adels on this page have internet addresses. This new page is a lot easier to read. If you know of an email address that is no longer current, please let us know. More specific contact information is available at Adelphikos.com


The Ten Original Members

The Ten Origional Adelphikos Social Fraternity Members

Victor Baker
Turney Colwell
Burdette Glenn
John Jenkins
Wilbur Lyon
Channcey Shallor
Ira Shaw
Edward Spence
Howard Wiley
Ernest Young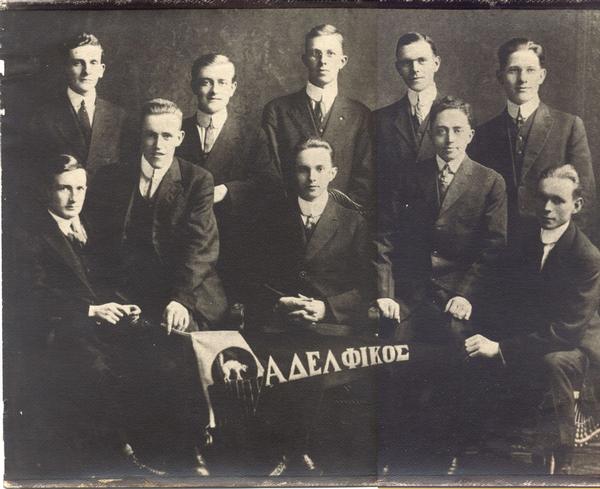 Links
What Ever Happened to the Adelphikos FraternityThe Adels are no longer in the GCC Landscape
Home: Click to return to Gary's Attic
Adelphikos Home Page: A good place to start and to locate alumni
Adelphikos Information Page: Rob Russell has given us another good starting point for Adel information